English Language Institute
The English Language Institute welcomes people from all over the world to study with us and learn English on our beautiful Sanford/Lake Mary campus.
Non-F1 students can enter the program every month except December. Applications are accepted all year long.
F-1 students can enter the program in January, May, and August.
Go to our application tab for details.
Now accepting F-1 Applications for Fall 2023
Non-F-1 applications accepted year round.
Seminole State College's English Language Institute (ELI) is an intensive English language program for international students, residents, and visitors whose native language is not English. This face-to-face, non-credit program focuses on helping students improve their English skills for personal enrichment or in preparation to enter college or university in the United States.
Request Program Information
Interested in the English Language Institute at Seminole State College?
Request more information about our program.
We provide excellence in English language instruction through our unique combination of a strong academic curriculum and a friendly, welcoming environment.
---
Programs
Full-term program - Created for international students on F-1 visas looking for an intensive English language program for a minimum of one semester. Classes are in person on our Sanford/Lake Mary campus.
Term
Application
Deadlines
Fall
(August - December)
July 1
Spring
(January - April)
November 1
Summer
(May - July)
April 1
Learn more about the Full-term program:
Short-term program - Created for students who plan to study one semester or less and do not have an F-1 student visa. This program enables students to choose their own schedule and length of study. Classes are held in person on our Sanford/Lake Mary campus.
| | |
| --- | --- |
| 2023 | 2023 |
| June 5 | May 30 |
| July 3 | June 26 |
| August 21 | August 14 |
| September 18 | September 11 |
| October 16 | October 9 |
| November 13 | November 6 |
| 2024 | 2024 |
| January 8 | January 2 |
| February 5 | January 29 |
| March 11 | March 1 |
---
We Offer
Seven levels of intensive English language studies from beginner to college preparation
Core academic courses in speaking, listening, reading, writing and grammar
Elective courses on a variety of fun and useful topics
Educational class trips to state parks, museums, historic areas and local businesses
Qualified, friendly faculty experienced in teaching English at all levels
The latest materials, technology and techniques
Personal academic advising with free tutoring and career guidance
Pathway to admission into degree programs at the college
Diverse student population representing countries from all over the world
Ideal location in Central Florida, north of Orlando - near Florida's tourist attractions and beaches
Spectacular, warm and sunny weather all year
Application for Full-term F-1 Admission
Fall 2023/Spring 2024: We are accepting new and transfer F-1 applications and will be issuing I-20s one to two weeks after receipt of completed application.
You are eligible for full-term admission to the English Language Institute if you:
Are 16 years of age or older
Can obtain an F-1 student visa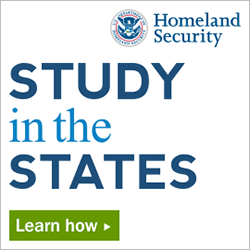 Step 1: Send Application
Send the following documents by email:
Photocopy of passport (and passports of dependents)
Bank statement or letter in PDF format showing the required amount of money that corresponds to the amount of time that you wish to study.
optional: If you will be living with a sponsor, he/she should fill out the Affidavit of Living Expenses so that the amount listed below for living expenses can be deducted from the financial requirement.
| | 4 months | 8 months |
| --- | --- | --- |
| Tuition | $ 2,800 | $ 5,600 |
| Books | $ 300 | $ 600 |
| Medical insurance * | $ 600 (6 months) | $ 1,200 (12 months) |
| Living expenses | $ 4,000 | $ 8,000 |
| Total | $ 7,700 | $15,400 |
NOTE: If your spouse and/or children will come with you, you must add $3,735 per year, per adult dependent and $1,665 per year per child dependent to the required amount. (ex: For a spouse and child, add $5,400 to $15,400. Total required: $20,800)
*International students may take a break from their studies for one semester each year and remain in the United States; however, they must have medical insurance while in the U.S.
Step 2: Receive I-20
We will email your official I-20 and acceptance letter to you
Step 3: Attend Visa Interview
You will receive instructions about how to make an appointment with the U.S. Embassy in your country to request your F-1 visa. If you are approved for an F-1 visa, you may travel to the U.S. a maximum of 30 days before your classes begin.
Application for Short-term Non-F-1 Admission
Non-F-1 students can start every month except December. Applications are accepted year-round.

You are eligible for short-term admission to the English Language Institute if you:
Are 16 years of age or older
Have any type of visa except F-1
Are a U.S. resident or citizen
To Apply:
fill out the Short-term Application
select your start date and number of days per week
send completed application and copies of your passport and U.S. visa or proof of permanent U.S. residency to christopherd@seminolestate.edu
Students are responsible for finding their own housing while at the English Language Institute. Seminole State College does not have on-campus housing.
Apartments
There are numerous apartment complexes in the Sanford/Lake Mary area. Average rent for an apartment is from $1,500 to $3,000 per month, not including utilities and food. The cost of renting a house for a family will be at least $3,000 per month. Single students may find it easier to rent a room from someone rather than looking for their own apartment. The average cost to rent a room in a house or apartment is between $800 and $1500 per month. Rooms for rent are usually advertised online.
Students who would like to live with an American family should contact our homestay partner, East to West Learning. Living with an American family is a great way to practice English and immerse yourself in U.S. culture. Homestay plans may include food and transportation to school. Detailed information about the homestay program, including costs, can be found on the East to West Learning website. East to West Learning is a locally owned Housing Placement Agency specializing in arranging safe and caring host families for international students. Their host families welcome students as part of the family and also become students of culture themselves. Host families are carefully selected for their desire to integrate the student into their daily routines and family activities. Hosts are screened with a background and reference check and receive cultural training to prepare for their student. Students will enjoy a private bedroom, family meals, and transportation to and from school. Cultural and educational outings and group celebrations are organized by the staff, who are available to students, hosts, and parents 24/7.
English Language Institute Location
The English Language Institute is located on the Sanford/Lake Mary Campus of Seminole State College, which is the largest campus of the college. ELI students are eligible to use all the facilities on campus such as the Student Center and library and are welcome and encouraged to participate in the many college activities, clubs, and events. The Sanford/Lake Mary Campus is home to dozens of programs and features key cultural centers, like the Center for Fine & Performing Arts and the Emil Buehler Perpetual Trust Planetarium. It also serves as the college's intercollegiate athletics hub.
Local Area
The Sanford/Lake Mary Campus is located in a suburban area that is approximately 20 miles north of the city of Orlando. The campus is situated on the border between the cities of Lake Mary and Sanford in Seminole County. Seminole County is called "Florida's Natural Choice" because of the beauty of the area and proximity to many state parks and wildlife areas. The campus is also 30 minutes from the cultural areas of Winter Park and Orlando, 45 minutes from the tourist areas and theme parks, and an hour from beaches such as Daytona and New Smyrna. Whether you like nature, beaches, sports, shopping, art, music, eating out, or going to theme parks, there is always something fun to do in our area.
The climate in the area also makes it a great place to live or visit. We have year-round sunshine and warm temperatures!
Transportation
Like most suburban areas in the United States, the Sanford/Lake Mary area is very spread out, and the best way to get around is by car. Most residential neighborhoods are not within walking distance of the college or shopping areas.
A used automobile generally costs between $3,000-$10,000. In the state of Florida, you are required to purchase automobile insurance.
You can apply for a Florida's driver's license once you begin studying and your I-20 becomes active in the SEVIS system.
If you do not own a car, you should inquire about bus routes to the college and other service areas before selecting housing. Public transportation in Seminole County is very limited.
Full-Term Schedule for F-1 Students
Term
Application by
Orientation / Testing
Tuition
Fall 2023
August 21, 2023 - December 7, 2023
Monday-Thursday, 9 a.m. - 2 p.m.


July 1, 2023


August 17, 2023


$2,800


Spring 2024
January 8, 2024 - April 25, 2024
Monday-Thursday, 9 a.m. - 2 p.m.

November 1, 2023

January 4, 2024

$2,800
Summer 2024
May 6, 2024 - August 1, 2024
Monday-Thursday, 9 a.m. - 2 p.m.


April 1, 2024

May 2, 2024

$2,200
Fall 2024
August 19, 2024 - December 5, 2024
Monday-Thursday, 9 a.m. - 2 p.m.


July 1, 2024

August 15, 2024

$2,800
Short-Term Schedule for Non-F-1 Students
Start Dates
Application Deadlines
Tuition
June 5, 2023

May 29, 2023

2 days per week: $320 per month
4 days per week: $640 per month

July 3, 2023

June 26, 2023
August 21, 2023
August 14, 2023
September 18, 2023
September 11, 2023
October 16, 2023
October 9, 2023
November 13, 2023
November 6, 2023


January 8, 2024
January 2, 2024


February 5, 2024
January 29, 2024


March 11, 2024
March 1, 2024